To view this article as it originally appeared on SoVaNow.com, click here.
Microsoft snaps up land at three industrial parks
By Susan Kyte
Mecklenburg Sun
SoVaNow.com / December 23, 2020
Microsoft Corporation has purchased all or most of the land in three industrial parks located in Mecklenburg County — Hillcrest Industrial Park in South Hill, Roanoke River Regional Business Park located between La Crosse and Brodnax, and Lakeside Commerce Park near Clarksville.
All three land transfers occurred in the past week.
Details are scant on the transactions, through which Microsoft Corporation acquired nearly 900 acres of land from five local economic development entities — the Mecklenburg County IDA, Brunswick County IDA, Town of Clarksville EDA, Chase City EDA and the Town of South Hill.
The Mecklenburg and Brunswick industrial development authorities share ownership of the Roanoke River Regional Business Park. Economic development authorities in Clarksville and Chase City own the Lakeside Commerce Park on U.S. 58 together with Mecklenburg County, and the Town of South Hill owned Hillcrest Industrial Park.
When contacted about the sale, Mecklenburg County Administrator Wayne Carter said he was not at liberty to disclose any information, though he did confirm that the closings had occurred.
Carter also said that Microsoft did not acquire all of the property located in the Roanoke River Regional Business Park. That park is home to American Industrial Heat Transfer, Inc., which manufactures heat exchangers, and it also houses a 50,000 square foot shell building on a 10-acre site near the entrance onto U.S. 58. Both properties were excluded from the sale.
Two buildings located inside the Lakeside Commerce Park near Clarksville — which serve as home to VETS, Inc., a technology services company, and Home Care Delivered, a medical supplies and equipment company — also were not included in the sale.
Clarksville Town Manager Jeff Jones said the Clarksville EDA still owns a 340-acre parcel that abuts Occoneechee State Park and the Lakeside Commerce Park. This land also was not included in the sale.
Detailed questions about the transaction were directed to representatives of Microsoft's public relations agency. The staff will be away from the office until Jan. 4, according to an auto reply message received by The Sun.
In September, in anticipation of the transfer, South Hill Town Council approved a change to the town's zoning ordinance to allow data centers to be located in industrial I-G and I-P districts as a matter of right. The ordinance defines "data center" as a "group of networked computer servers typically used by organizations for the remote storage, processing, or distribution of data."
When asked about the reasoning behind the change at the time, town officials said it nothing more than a routine matter that would allow the property to be marketed to a broader business clientele.
The 138-acre Hillcrest Business Park sits at the interchange of I-85 and Highway 1 on the northern edge of South Hill near VCU Health Community Memorial Hospital.
Promotional materials about the park developed by the Virginia Economic Development Partnership (VEDP) note that the park "can easily accommodate a 1.128 million square foot facility, has a 500,000-gallon water storage tank and a helipad on site, and a fiber node," a common network box for internet service.
Lakeside Commerce Park is described by VEDP as a 650-acre park that features a campus-like setting that is perfect for technology companies from an existing fiber node. It is accessed from U.S. 58 just east of downtown Clarksville and Occoneechee State Park.
Roanoke River Regional Business Park is located between La Crosse and Brodnax off U.S. 58. The business park was qualified by Dominion Power for data center projects. Its location provides quick access to both Interstate 85 and 95, and the nearby Mecklenburg-Brunswick Regional Airport.
Since 2010 when Microsoft began construction of its data center in Boydton, the company has invested more than $2 billion in the project and built more than 1.1 million square feet of space to house its cloud computing equipment. The Microsoft cloud computing campus represents the largest economic investment in southern Virginia history.
Carter thanked Microsoft for its tremendous contribution to the economies of Mecklenburg County and its continued involvement in the area.
Microsoft is a publicly held corporation established in 1975 and headquartered in Redmond, Wash., with revenues surpassing $100 billion and more than 134,000 employees worldwide. The computing giant has created nearly 1,800 jobs in Virginia. Approximately 300 of those have been in Mecklenburg County.
View this article as it originally appeared on the Gazette-Virginian website here.
Microsoft TechSpark celebrates third anniversary, looks forward to 2021 as construction wraps up at new South Boston headquarters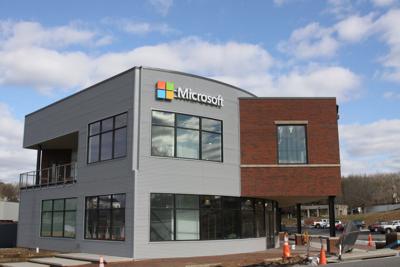 Microsoft TechSpark will have a new headquarters in the new year — in a newly constructed, state-of-the-art building in downtown South Boston.
The program is celebrating the third anniversary of its founding, and in 2021, the Southern Virginia region of the program will be based on the first floor of the SOVA Innovation Hub at 715 Wilborn Ave.
"TechSpark is a civic program that's aimed at job creation and economic growth in rural communities," explained Jeremy Satterfield, Microsoft TechSpark Southern Virginia manager. "Southern Virginia was one of the seven regions chosen by Microsoft to deploy the TechSpark program."
Satterfield shared a list of accomplishments Microsoft TechSpark has made in the past three years, and with the opening of the SOVA Innovation Hub, he anticipates the expansion and continued success of those programs.
"Technology Education and Literacy in Schools (TEALS) has expanded into every high school in the Southern Virginia TechSpark region, Girls Who Code clubs have sprouted up in Halifax County and Mecklenburg County, free public WiFi networks were deployed in Boydton and Clarksville, the ChangeX program was launched, and of my signature project, the SOVA Innovation Hub, was announced," Satterfield detailed. "There are numerous organizations in Southern Virginia that are doing phenomenal things, but our hope is that bringing those existing organizations, and new ones, together, we will help drive impact deeper throughout the region."
The Hub is a collaboration between Microsoft and Mid-Atlantic Broadband Communities Corporation. The building in which the Hub will be housed is still under construction, and Satterfield estimated the doors of the Hub would be open in mid-February 2021. It is the first new building to be constructed in downtown South Boston in more than four decades.
In the midst of a global health pandemic and a time of economic uncertainty, the two-story, 15,000-square-foot SOVA Innovation Hub dominates the landscape of the town of South Boston like a lighthouse guiding captains of ships in the darkness of a stormy night. And like the captain of a ship navigating and charting a vessel's course, Microsoft TechSpark seeks to give Southside Virginia residents the skills to compete in today's high-tech workforce. New job creation in the area is a potential impact of the innovative collaboration at the Hub.
"The intent for the Innovation Hub has always been to bring programming and training opportunities to the residents of Southern Virginia. We see the opportunity to work with individuals in every stage of their lives, K-12 students, college students, career changers and those life-long learners," Satterfield said. "We can certainly envision that technology based jobs and opportunities could spawn from collaborative innovation, but our primary focus will be bringing those programming and training opportunities to the forefront for Southern Virginia residents."
The Micosoft TechSpark Southern Virginia manager said he sees one of the organization's programs, the Girls Who Code Club, growing "exponentially" with the opening of the SOVA Innovation Hub, because partners will be on site to assist with the launching of new clubs.
Satterfield related that the Girls Who Code Club was started after he held an event in Halifax County with the Mentor Role Model Program in April 2018. Microsoft TechSpark decided to launch a Girls Who Code Club in partnership with the Mentor Role Model Program and the Halifax County Middle School, and the club has actively met for two years.
"That particular program focuses on girls in diversity and was designed to work with children to give them exposure to things they normally could not get exposure to," explained Angela Townes Yancey of the Mentor Role Model Program. "It really opened up the doors of opportunity for a lot of these young ladies to see that coding can be so many things. It can be creating web pages…It can be fun, it can be interesting."
Yancey said taking the Girls Who Code class in the sixth grade opened up her daughter Aniyah Yancey's eyes to a new career pathway. Before taking the class, Yancey, who is now in the ninth grade, had expressed an interest in becoming a nurse but did not like the sight of blood.
"Girls Who Code opened a door for her because she realized that she doesn't have to be a nurse to help people. Now she decided, she wants to go into information technology, but in the nursing field – IT and health occupations," Yancey said.
Microsoft TechSpark is committed to providing technology-based educational training opportunities not only to school-aged students but also to adults seeking to upgrade their workforce skills.
Microsoft recently partnered with gener8tor and the SOVA Innovation Hub to bring a free, virtual, self-paced upskilling program to residents across Southern Virginia to help them sharpen their knowledge and abilities in customer service/ sales, Satterfield shared. The participants completed the five-week program on Nov. 20. and are currently working with mentors and coaches to identify and apply for employment opportunities.
While having a skill set in technology has always been important to be competitive in today's workforce, the COVID-19 pandemic has further highlighted the need for those technology skills with many employees working remotely from home, Satterfield commented.
"At a time when a record number of Americans are working from home across the United States, most rural residents lack vital digital skills that can unlock opportunities in the new digital economy," Satterfield stated. "In such an important time in history, we chose to partner with gener8tor and SOVA Innovation Hub to bring an upskilling opportunity to the residents of Southern Virginia that will position them to compete for advanced jobs regionally, as well as nationally. This new skilling opportunity will allow our lifelong residents to remain in the region while securing gainful employment."
Yancey for one sees Microsoft making a home in South Boston at the SOVA Innovation Hub and bringing more opportunity to the residents here as a major plus for the area.
"I think having Microsoft here is a wonderful initiative," she said. "Hopefully having Microsoft here will create doors that can be opened and the Southern Virginia Higher Education Center will give us the resources to open the doors."
Miranda Baines is a staff writer for The Gazette-Virginian. Contact her at mbaines@gazettevirginian.com.
If We Build It, Will They Come? Lessons from Open-Access, Middle-Mile Networks
by Jordan Arnold & Jonathan Sallet
Published by the Benton Institute for Broadband & Society
December 2020
Click below to read.